Impact and Outcomes: Stories and Data from Our Work with Students, Educators, and Schools
Everything that GOA has done over the past 11 years has been to reimagine learning. Our learner-centered approach is based on what we know from research, what we have acquired from a decade of data and feedback, and what we hear from our faculty: that empowering students to do cognitively complex, meaningful, and relevant work in a relationship-based environment is the key to learning and engagement.
In our new Impact Report, we share stories, data, and evidence of the ways that GOA learning experiences are impacting the students, educators, and schools we work with. We also highlight what we're seeing and hearing in the field of education and how this influences our work as we look to the future.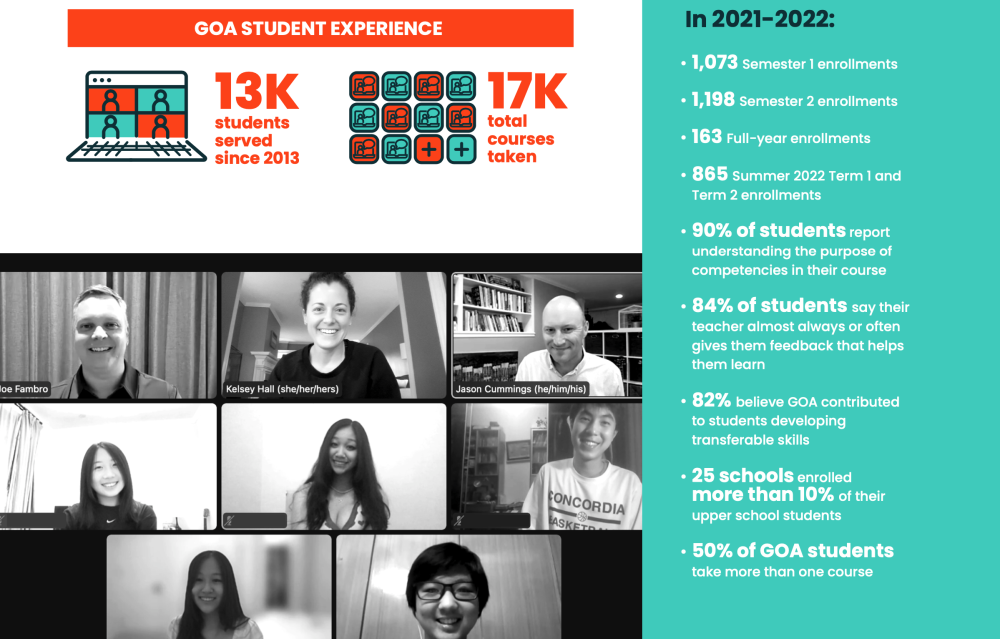 Our competency-based approach to online learning that GOA has pioneered remains unique in the sector. Our primary objective has been to bring teachers and students together from around the globe in pursuit of interest-based, transformative learning. What remains and continues is an educational movement to provide high-quality online learning that is relationship-based, skills-driven, and global in representation and design.
To learn more about GOA's Impact, where we've been, and where we're headed, discover and download GOA's Impact Report 2022.