Amplify Student Voices by Journey Mapping Their Experiences
Understanding the needs, hopes, and perspectives of your learners define the foundation of impactful learning experiences. Journey mapping, also known as learner experience mapping, is one methodology to ground curriculum design decisions in a learner-centered mindset — literally mapping out the experience of a learner through a specific activity or process.

Foundations of Journey Mapping
The concept of journey mapping comes from the user experience research field and is used to create a visual story or diagram that illustrates how a user interacts with a particular process in order to accomplish a goal. Common applications are in eCommerce — you might envision mapping the registration process on a website, the step-by-step pathway to complete an online purchase, or the process of searching and retrieving flight information on a mobile app. Journey mapping helps an organization step into the perspective of a user to identify particular actions, mindsets, and emotions that are experienced by particular demographics of users during a specific, time-bound interaction.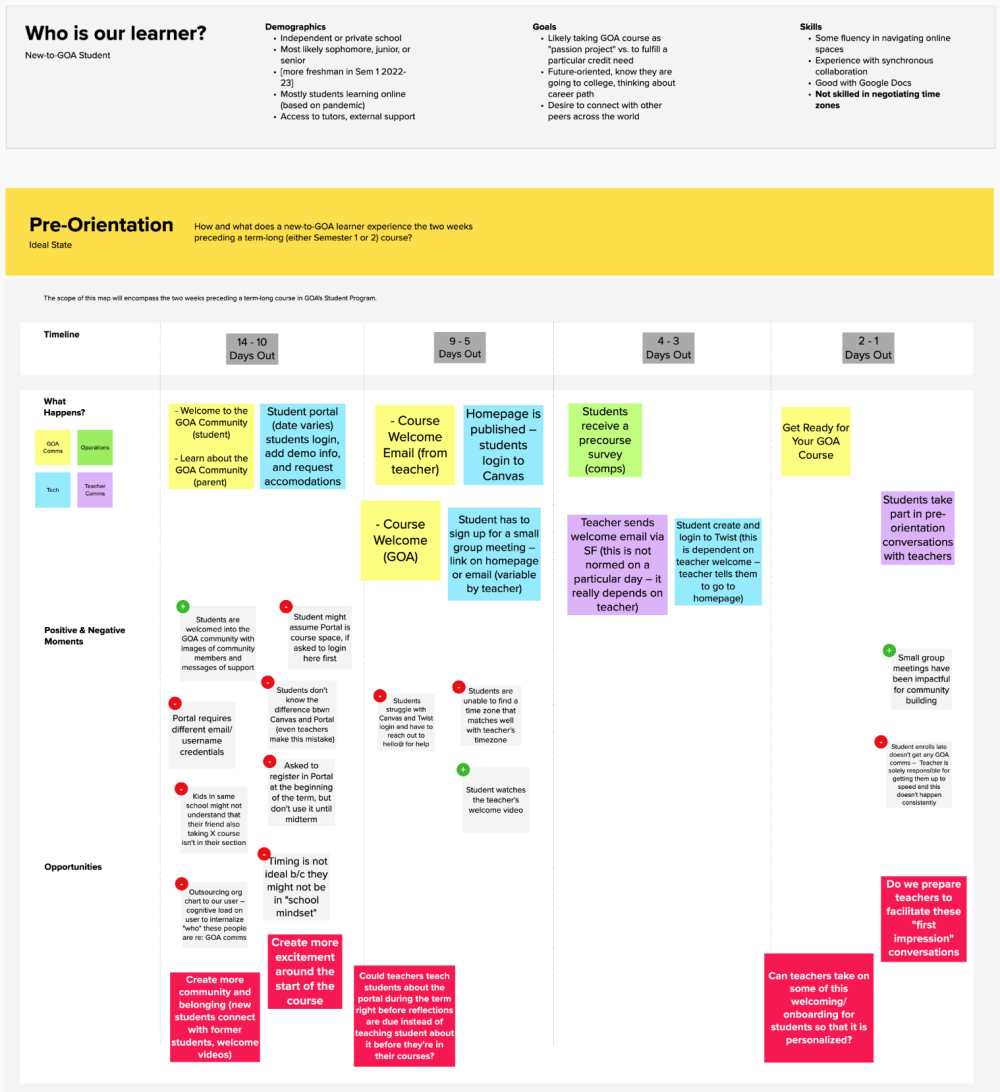 Key components of a journey map include a brief profile of the typical user participating in the experience (called a user persona), a short narrative describing the situation or interaction that the map is visualizing (called a scenario), an articulation of the actions that the user takes through the scenario (called phases), a summary of highs and lows in the user's behavior, thoughts, feelings, or frustrations encountered along the phases, and a summary of insights gathered to improve the experience (called opportunities).

When mapping a learner's experience, the approach doesn't differ significantly — the aim is still to better understand the areas of strength across a given learning experience, as well as areas that might need rethinking. Beyond the instructional experience, leveraging a journey map allows you to better construct a holistic understanding of your learner within a given context.
Mapping GOA's Student Orientation Experience
To apply journey mapping to an educational context, you want to choose a particular touchpoint in the lifecycle of a learner — you might take a look at a specific unit in your course, or explore what a typical learner goes through during the course registration process. Any timebound, discrete activity or process will work as your selected focus.
At GOA, we recently leveraged the journey mapping process to better understand the learner's Orientation experience at the start of each academic term. Because first impressions are important, we prioritized this experience over other touchpoints in the learner's journey. It was important for us to identify high-value opportunities to improve the learner's experience as they are just getting to know GOA as an organization.


We assembled a cross-functional team of stakeholders, including teaching faculty, student program leaders, operational program managers, and design staff. After sketching a lightweight user persona for a new-to-GOA student, we outlined our scenario to include all engagement and communications between GOA, the GOA teacher, and the student during pre-Orientation (the two weeks leading up to a GOA term) and Orientation.
Gather Existing Research
We gathered all existing organizational data aligned to our persona and scenario scope, including page view and engagement data from Canvas, our learning management system; open and click rates from our email communications tool; enrollment data, like drop and retention rates during our selected timeframe; and trends in student-submitted support requests managing by our helpdesk.
Share and Analyze Existing Research
These diverse data sources were synthesized and shared with the project team to analyze and evaluate before coming together to draft our understanding of the current state of pre-Orientation and Orientation from the perspective of a student. In reviewing this data, pain points started to emerge related to student expectations and effective communications that were further elaborated in our current state map.
Draft Current State Map
The drafting process took place in a synchronous Zoom meeting, where collectively, we outlined all the teacher communication, GOA communication, technology- and operations-related touchpoints that a student engages with across the journey map phases outlined by the two-week spectrum of pre-Orientation and three-day spectrum of Orientation. It was helpful to use an online collaboration tool, like Mural, for this work — allowing us to replicate what an in-person experience might have felt like with post-it notes on a whiteboard.
In this example of the current state map of Orientation, we used the top third of the timeline to document the various aspects of what happens during each day of Orientation. Things such as GOA communications, operations, tech, teacher communications, and assignments given were added to the map and color-coded. In the center row of notes, we recorded any positive or negative moments associated with the happenings on that same day, marked by a red badge for negative moments and a green badge for positive ones. The last row of bright pink notes housed any opportunities to strengthen and improve the Orientation experience in response to the data collected.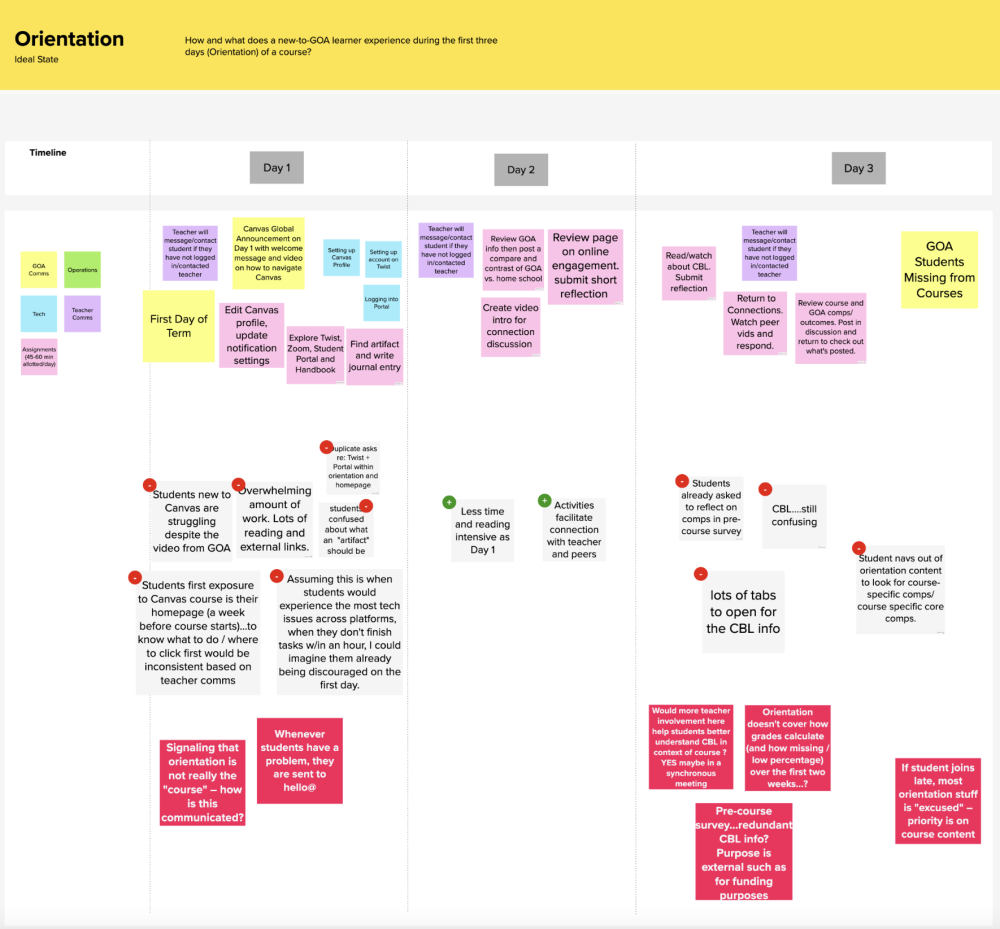 Validate Current State Map with Users
An important step either before or after capturing your assumptions about the current state of an experience is to validate your thinking with the impacted users — in our case, our new-to-GOA learners. After our current state map was drafted, a simplified, easy-to-read version was shared with over 900 new students who had recently completed Orientation at term start. We asked them how accurately the current state map reflected their pre-Orientation and Orientation experience. Feedback on pain points and areas for improvement was also invited. As GOA faculty play a significant role in the experience of new students, we also solicited input from this stakeholder group to inform further insights.
Identify Pain Points and Opportunities
With this valuable data, our project team was able to return to our current state map to identify where tensions exist along the spectrum and start ideating opportunities for improvement.
Draft Ideal State Map
Using the articulated opportunities as a kicking off point, the team then drafted a parallel map that reflected the ideal state of pre-Orientation and Orientation — what the experience might look like for new students with tensions addressed and barriers removed.

Synthesize Recommendations
To close out the project, the project lead was responsible for synthesizing key insights from the mapping process and sharing concrete recommendations with GOA leadership to redesign the pre-Orientation and Orientation experience for students. Recommendations were organized into three categories — communications, curriculum, and overall experience — with the most significant shifts focusing on fostering a greater sense of connection between students and the teacher, as well as presenting clear, differentiated pathways through Pre-Orientation and Orientation for new versus returning GOA students.
GOA hopes to implement improvements to launch in the Summer 2023 terms with further refinements based on learner feedback by Semester 1 of the 2023-2024 academic year.
What We Learned from Journey Mapping
Our project team realized that no one person at GOA had a complete understanding of the student experience during the Orientation timeframe. This insight would not have been possible by simply analyzing existing data, or by only collecting student feedback. Stepping into the shoes of our learners through the journey mapping process allowed us to construct a holistic picture by bringing together the respective puzzle pieces that each stakeholder or team separately owned.
Collaborating in this way also invited individuals on our team to share feedback on aspects of Orientation that others on the team owned, in a safe and welcoming spirit of continuous improvement and without blame. This project shed light on what each team member was responsible for, but also identified "ownership gaps" for parts of Orientation that were not anyone's stated responsibility. In turn, this was an opportunity to evaluate who should oversee particular pieces of the work and exactly what it would entail. By better understanding GOA's operational foundations that drive the Orientation experience and how those impact student engagement, journey mapping became a valuable tool in refining a student's first impression of a GOA course.
Take Action
So, how can you leverage this methodology to make your experiences more learner-centered?
Here are some questions to ask yourself as you get started with journey mapping:
What is the focus of this journey map? Select a discrete, timebound learner-facing activity or interaction – again, this might be a final assessment, the first day of school, or a given week or lesson within a larger course.

What relevant data can be gathered? Gather any existing relevant data to inform assumptions around the current state of the experience.

How do these observations resonate with learners? Validate these assumptions by engaging with your learners – a survey, focus groups, or interviews work well to solicit input.

How do I record all of these findings? Draft a current state map to document findings. Download and leverage our Journey Map Template to record your learners' persona, craft a visualization of the experience, outline tensions or pain points, and capture opportunities for improvement.

The GOA Design Lab offers short-form, self-paced courses in visual design and inclusive design for educators. Consider joining us to continue your journey in becoming a more learner-centered practitioner.
For more, see: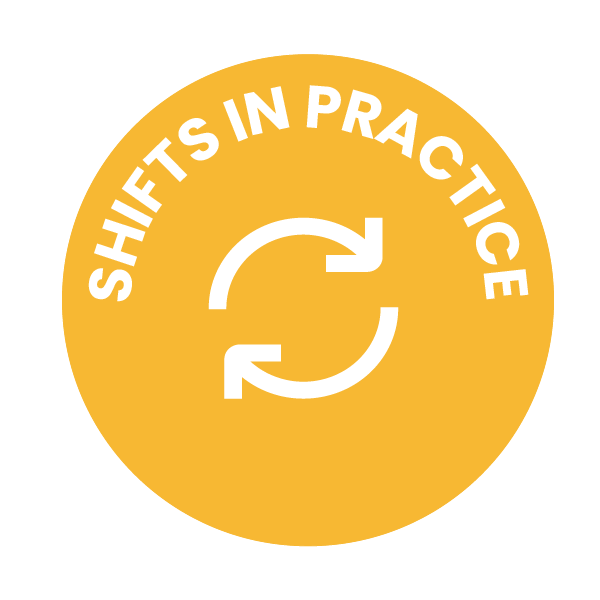 This post is part of our Shifts in Practice series, which features educator voices from GOA's network and seeks to share practical strategies that create shifts in educator practice. Are you an educator interested in submitting an article for potential publication on our Insights blog? If so, please read Contribute Your Voice to Share Shifts in Practice and follow the directions. We look forward to featuring your voice, insights, and ideas.

GOA serves students, teachers, and leaders and is comprised of member schools from around the world, including independent, international, charter, and public schools. Learn more about Becoming a Member. Our professional learning opportunities are open to any educator or school team. Follow us on LinkedIn and Twitter. To stay up to date on GOA learning opportunities, sign up for our newsletter.