The Top Ten GOA Blog Posts of 2021
If you're looking for inspiration as we head into the new year, rediscover GOA's top ten most read blog posts of 2021. This list highlights some of the incredible work, ideas, and strategies that are reshaping the global learning community and impacting education.

Drawing on an assessment of trends and disruptions from 2020, Executive Director Michael Nachbar shares eight predictions for education in 2021. Keep an eye out for his upcoming 2022 predictions!

Delivering a variety of learning experiences while also ensuring equitable outcomes for all learners is an ongoing challenge for schools. Director of Learning and Design Eric Hudson reveals thirteen strategies and tools to support student-centered learning in in-person, hybrid, and online classrooms.
Reflection is essential, especially in these times of pandemic learning. In this post, GOA's professional learning team offers six ways school teams can reflect on pandemic learning with protocols and frameworks to help guide the conversations and help evaluate and consider moving forward.

In this article on student-centered assessment, Associate Director of Professional Learning Becky Green offers three concrete strategies that equip students to exercise agency in the assessment process while ensuring flexibility and access for anytime, anywhere learning.

As a component of GOA's expanded vision for teaching and learning, we launched our new Educator Competencies. The GOA team shares the professional learning framework, its purposes, the process for development, and how we will use it to empower and support educators in their professional growth and development.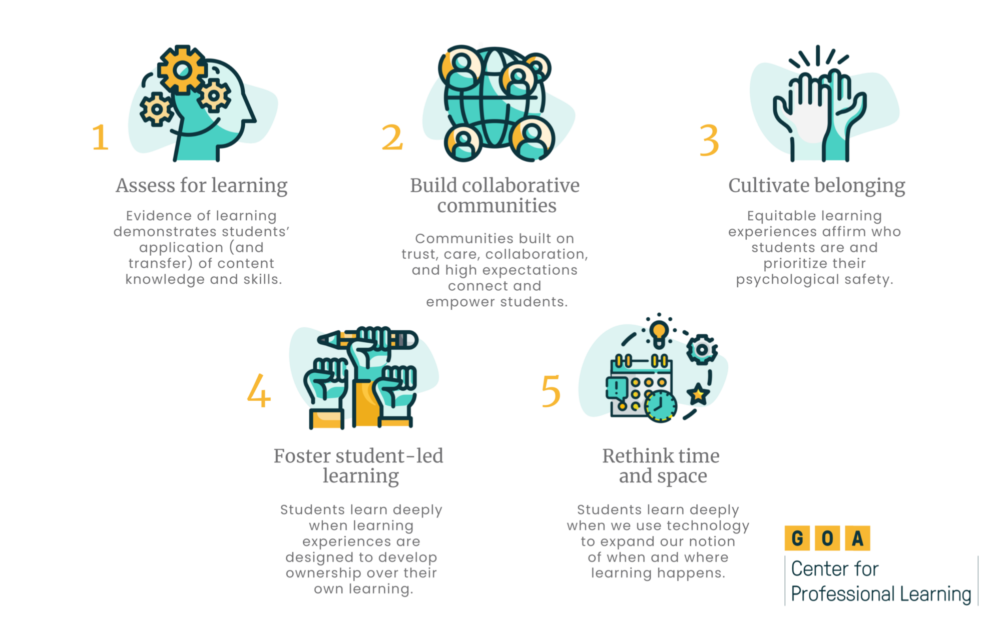 In looking ahead to post-pandemic learning, school leaders need to shift from reacting to challenges to prioritizing strategic planning. In this post, Eric Hudson shares GOA Design Lab's five-step process for defining, designing, and fulfilling our visions for post-pandemic education.
Andy Housiaux, Currie Family Director of the Tang Institute at Phillips Academy Andover, shared how a group of educators used insights from student interviews to create a new, immersive school experience for high school students.
In January, GOA brought together educators to crowdsource strategies and tips for assessing students through an Ask Me Anything! Live Event: Moving Beyond "Cheat-Proof": Meaningful Assessment Practices in Hybrid and Online Spaces. This article shares a list of the key takeaways from the conversion. A full recording of the live event can be viewed here.
A strategic approach to feedback is essential not just for learning but also for establishing relationships with and engaging students. Drawing on GOA's experience working with global cohorts of students, Eric Hudson shares six strategies that can help educators balance effectiveness and sustainability in high-quality feedback.
Students need safe spaces to hold courageous conversations. Associate Director of Student Equity and Success Ellen Min shares three strategies that teachers of the GOA course Race & Society use for guiding meaningful student conversations about equity, race, and justice.


Any feedback or topics you'd like us to cover this year? Let us know! We're excited for what 2022 has in store, and we hope you join us in the new year. Here's how to get involved with GOA in 2022!