How AI Can Support Agency in Our Students, and in Us
In January, the podcast Hard Fork interviewed Cherie Shields, a high school English teacher in Oregon, USA, about the impact of generative artificial intelligence (AI), specifically ChatGPT, on her work and her students. Towards the end of the conversation, Shields offered a clear and powerful framing of her approach:
"When we were having a discussion in my department, I said, try not to use the word 'cheating.' Because the teacher was like, well, they're going to have all these ways to cheat. And I said, maybe substitute the word 'cheating' for 'assistance.'"
Rather than focusing on what AI may prevent, I find it helpful to think about what it enables, especially in developing student and educator agency, that critical sense of ownership and self-efficacy that drives lifelong learning. How might we use AI to empower students and ourselves?
I've organized some ideas according to GOA's five shifts for competency-based learning (CBL). We've always used these shifts to emphasize that there are multiple entry points into competency-based learning, and the same applies to AI: there are many ways to use it, and these ideas offer ways it can support shifts to the learner-centered environments that are the hallmark of approaches like CBL.
Importantly, any discussion of the strategies below should include open acknowledgment of and conversation about some important facts: OpenAI's terms of use state that only people 18 and over should create accounts; the design and function of many artificial intelligence tools include problematic biases, inequities, and motives; artificial intelligence can give wrong answers and can be used to promote disinformation; and the number, sophistication, and accessibility of AI tools is only going to increase, and quickly. These facts should not stop us from exploring AI; rather, they should be a part of how we learn about it.
From Content-Driven to Skills-Driven
An essential competency for using AI is communicating effectively with AI. Like other technological innovations dating back to the printing press, AI gives students the power to find and build knowledge on their own. The work of schools is to help them use that power well.
In an interaction of a few minutes, ChatGPT gave me a competency, learning outcomes, and performance levels to assess effective communication with AI. It took me longer to input these responses into GOA's single-point and analytic rubric templates than it did for ChatGPT to generate those responses. While these outcomes aren't perfect, the potential here is exciting: articulating learning outcomes and designing rubrics is a time-consuming task for teachers. In addition, ChatGPT's ability to generate learning outcomes can empower students to set and refine goals for themselves.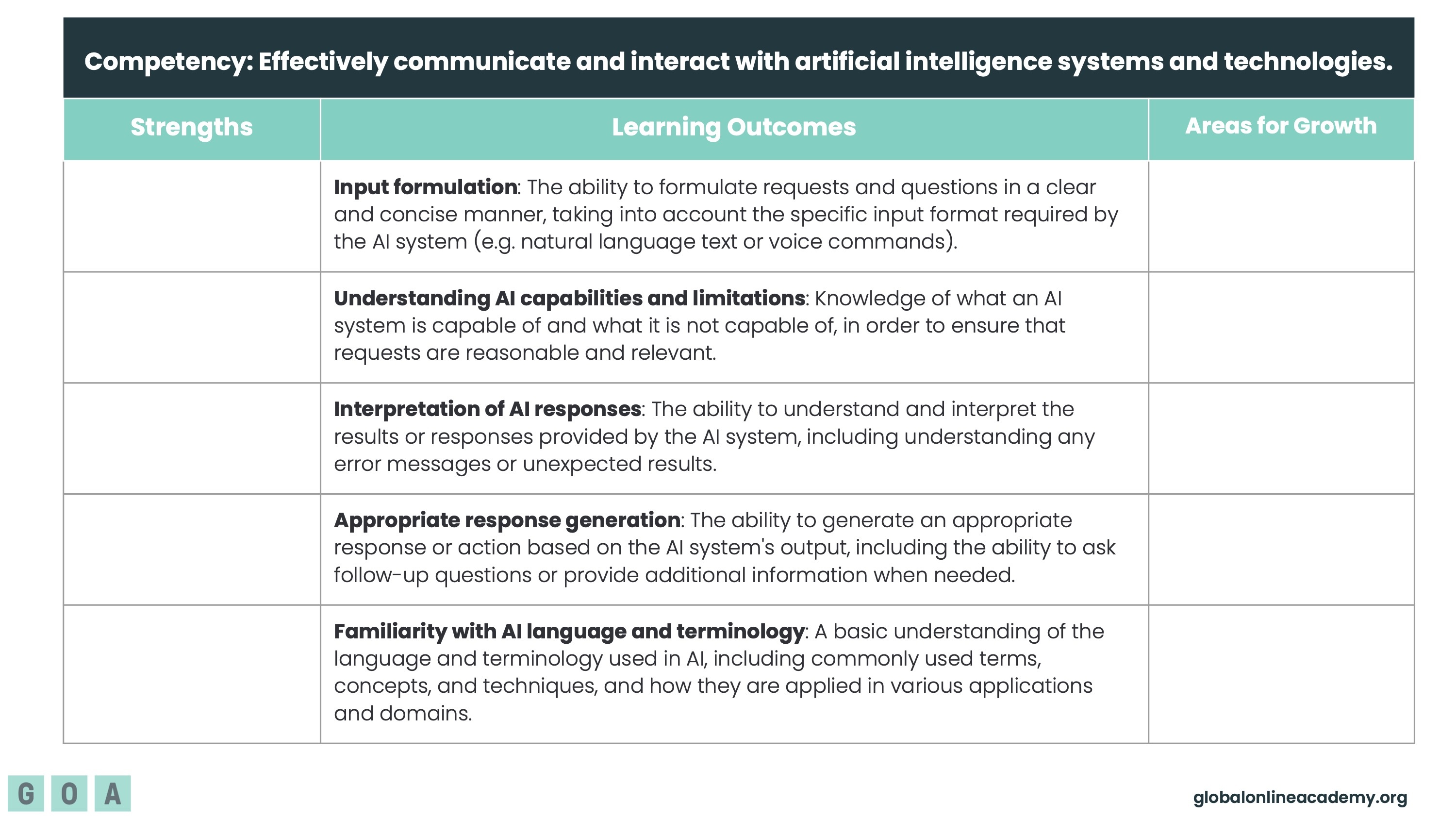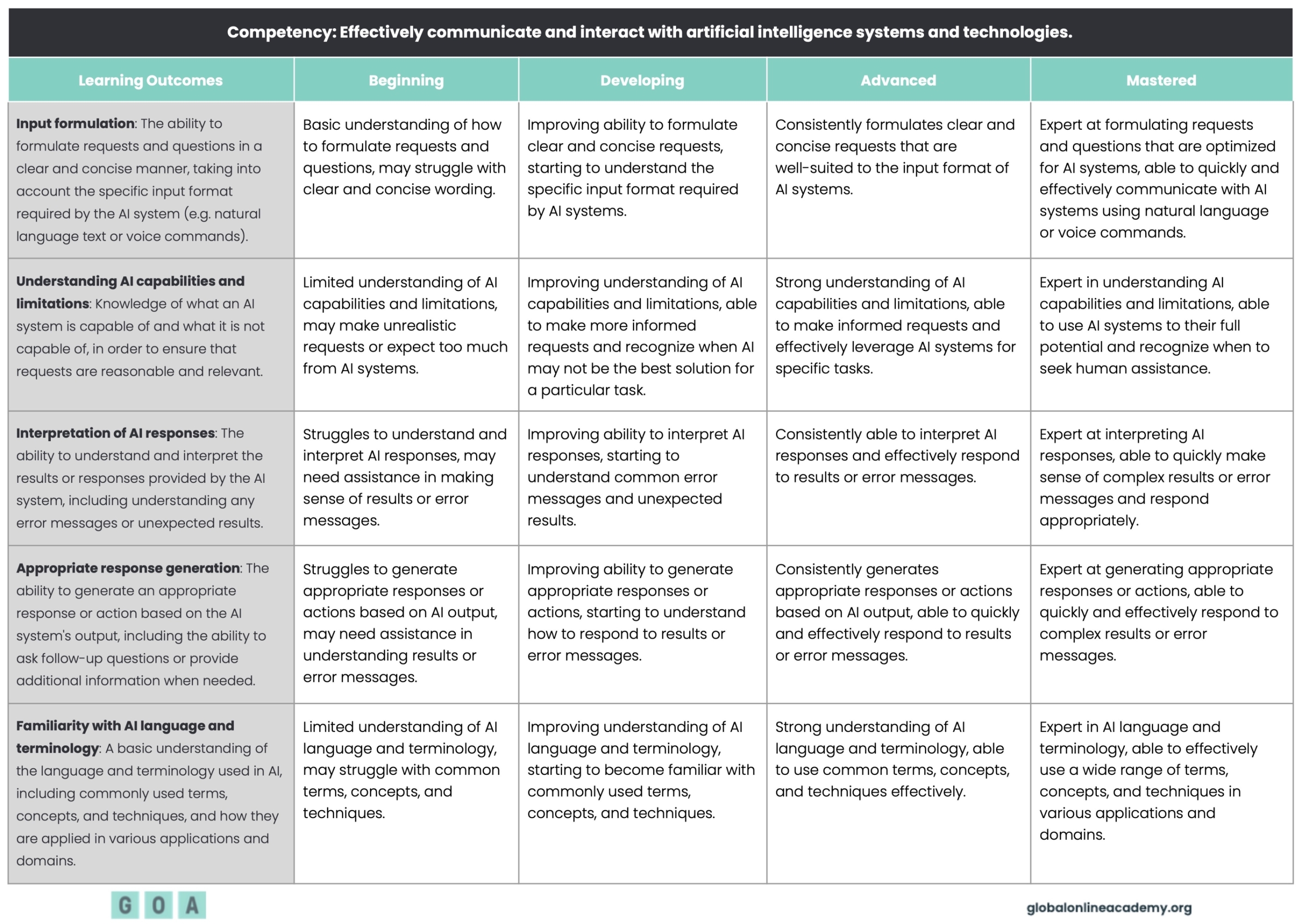 From Time-Based to Performance-Based
Eliminating or deemphasizing time as a factor in assessment is an essential component of competency-based learning. After years of disappointing adaptive technology, artificial intelligence may offer a way for students to have more agency over the time, place, and pace at which they learn.
For example, my colleague Lucas Ames recently acted as a student in Advanced Placement Macroeconomics and used ChatGPT as a study tool to self-assess, knowing that AI can generate an infinite amount of questions that can escalate in difficulty if we ask it to. We should spend time showing students how artificial intelligence can make self-study easier, more accessible, and more personalized. Teachers could use this same strategy to create differentiated lesson plans or formative assessments that are more responsive to what their students need.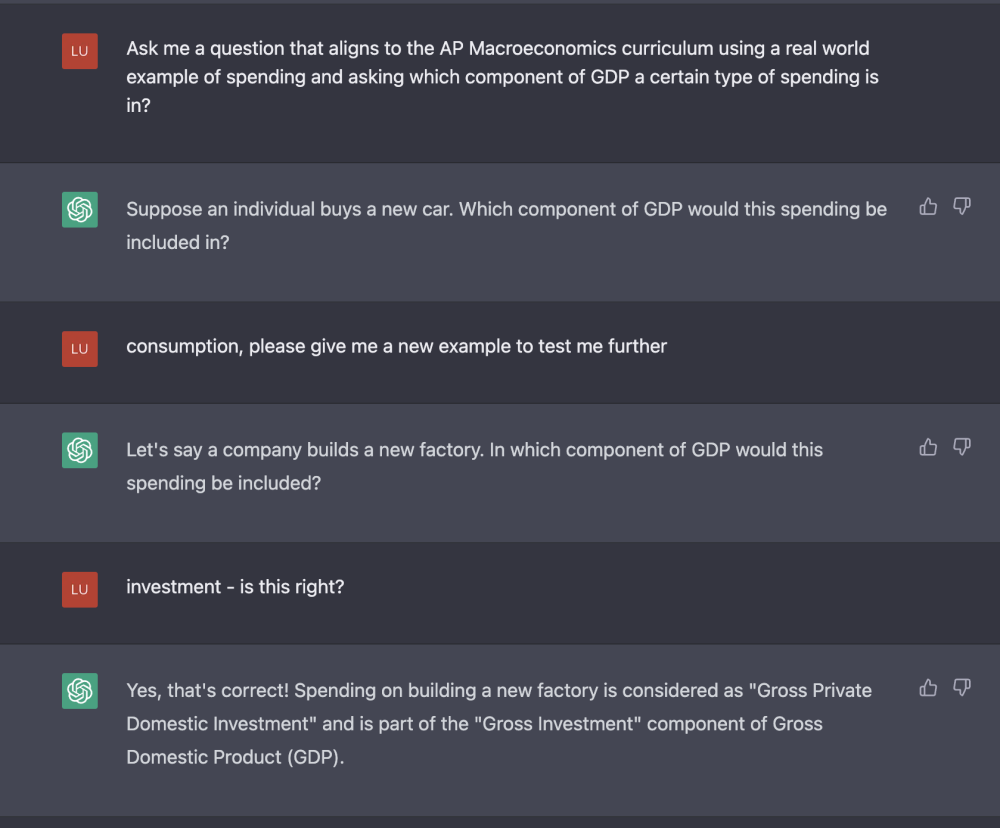 Grant Wiggins' "Seven Keys to Effective Feedback" offers clear ways to design impactful feedback. The challenge for teachers is how to do this for every student in a sustainable way. I've written before about feedback as an ecosystem that involves, but doesn't rely on, the teacher. How might artificial intelligence be a part of that ecosystem? How might it act as a resource to support a student who is stuck in the writing process, with no access to a teacher, tutor, or other feedback source? How might it help that student understand or expand on feedback from their teachers? How might it help teachers create and refine feedback that is clear and actionable?
In ChatGPT, for example, I inputted paragraphs from this article and asked for feedback. You wouldn't see the example rubrics above if ChatGPT hadn't suggested to me that I create them.

From Lessons to Experiences
What are ways AI can support learning connected to the world beyond school? The conversational nature of ChatGPT opens up many possibilities for simulations that would be hard to replicate in classrooms. Consider the interaction below where my colleague Lucas Ames imagined he was a student in the GOA course Medical Problem Solving, and he played a "doctor" while ChatGPT was the "patient." No one is suggesting that artificial intelligence can replicate a real-world experience, but it can certainly create simulations that help students imagine how key knowledge can be authentically applied.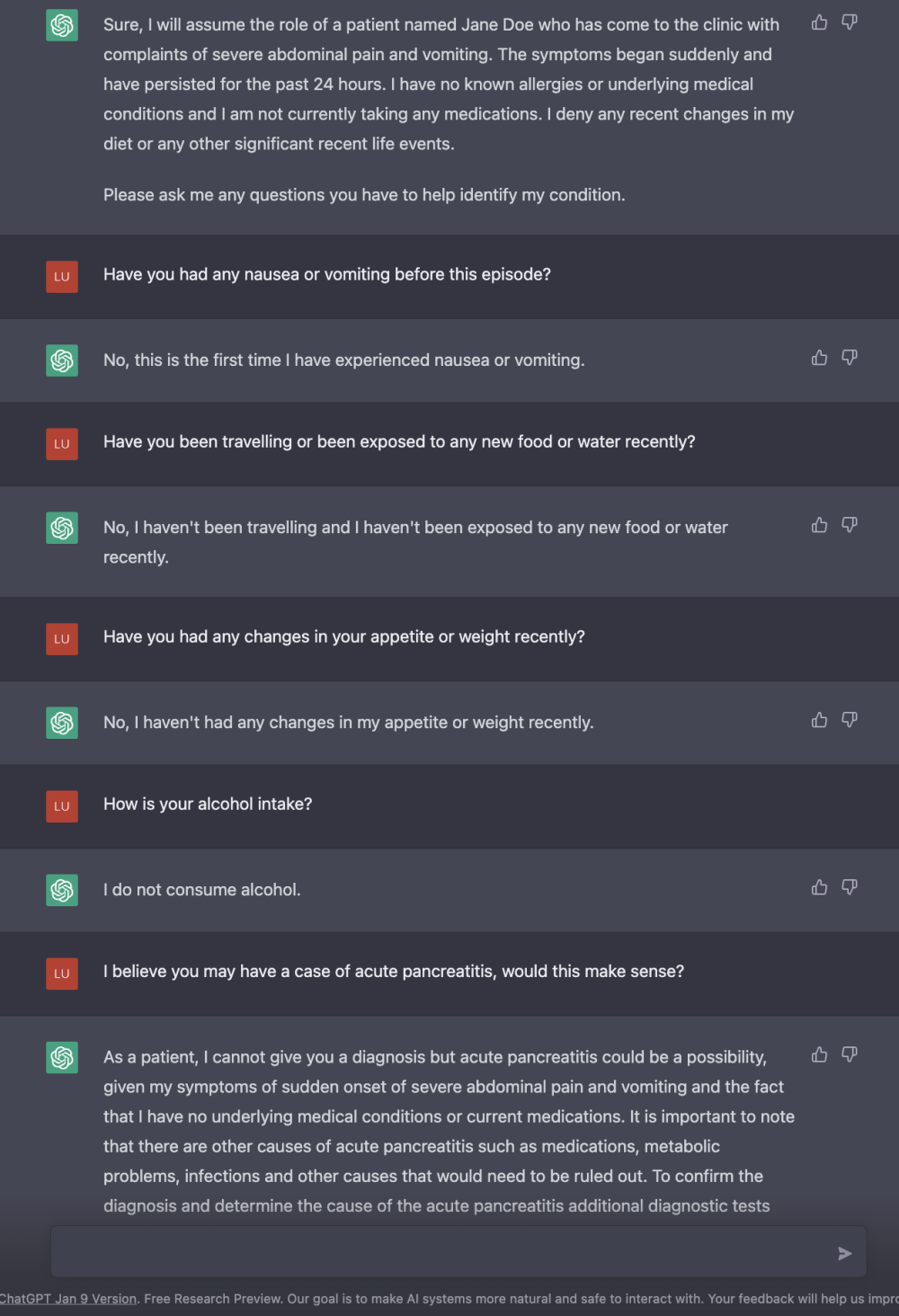 From Educator-Designed to Co-Designed
For me, this is one of the most exciting possibilities in artificial intelligence: as a partner to students who want to learn about topics that interest them. Using artificial intelligence well involves core competencies that are relevant to inquiry-based learning: crafting meaningful questions (like this CREATE framework for ChatGPT prompt design), asking questions to deepen knowledge (see the AP Macroeconomics "student" above), finding and curating relevant research (perhaps using tools like "the AI Research Assistant" Elicit), and using information literacy to assess the quality of that research (strategies like lateral reading and the SIFT framework have never been more important than in this AI age). Teachers who have embraced project-based learning and research projects should consider how AI can be integrated into the process of inquiry.
Where should schools begin?
A first step for schools is to create time, space, and support for educators to learn about and practice talking to AI so they can effectively collaborate with students. Explore how AI is already transforming the fields our students will enter, like science and the law. Practice talking to AI and imagine how it can affect our lives and work: Which routine or time-consuming tasks can AI do for you or make easier? What kind of feedback does it give you when you input things like lesson plans or communications or feedback for students? How does it help you prepare for classes or meetings or presentations? What are potential use cases with students in your context?
As the educator John Warner has written, "ChatGPT can't kill anything worth preserving." This moment in education offers us the opportunity to get clear about what we want to hold onto when it comes to learning and the student experience, and to imagine what AI might enable us to let go of.
For more, see: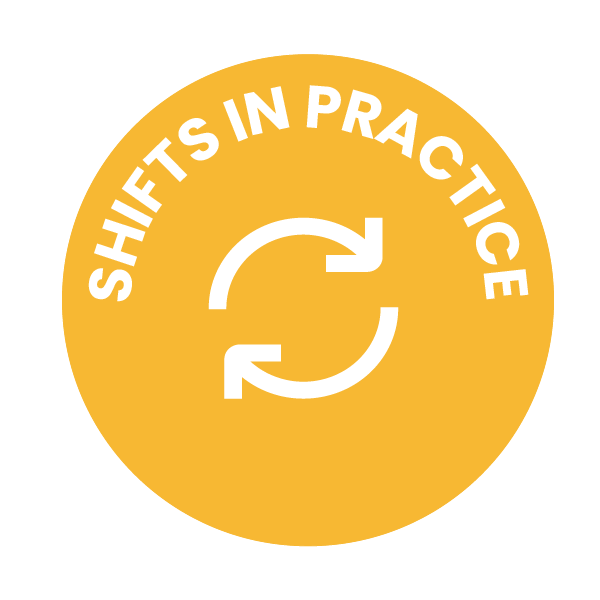 This post is part of our Shifts in Practice series, which features educator voices from GOA's network and seeks to share practical strategies that create shifts in educator practice. Are you an educator interested in submitting an article for potential publication on our Insights blog? If so, please read Contribute Your Voice to Share Shifts in Practice and follow the directions. We look forward to featuring your voice, insights, and ideas.
GOA serves students, teachers, and leaders and is comprised of member schools from around the world, including independent, international, charter, and public schools. Learn more about Becoming a Member. Our professional learning opportunities are open to any educator or school team. Follow us on LinkedIn and Twitter. To stay up to date on GOA learning opportunities, sign up for our newsletter.